Library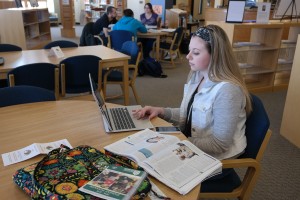 The E. Perrin Edmunds Library at Northern Maine Community College provides a welcoming and comfortable environment where students, faculty, staff and community members meet, study, learn and relax.  The library offers physical and online collections that support the curriculum and mission of the college.  Diverse resources are selected by staff that encourage academic investigation, discovery and personal growth.
The library offers wireless access, e-books, audiobooks, databases, interlibrary-loan services, group-study rooms, computer lab, One-Button recording studio, printers, iPads and laptops.  Information-literacy instruction is offered throughout the year and reference assistance is available in person and online.
 Visit our reference and resource page!