Housing
As a residential student, you will have the advantage of convenience and the strong sense of community spirit while enjoying the full college experience. There are many benefits to being a residential student, but the best one is that students that live on campus have a higher graduation rate than those that do not. With easy access to classes and resources such as the Edmunds Library and Smith Wellness Center nearby, it is an experience you will be sure to enjoy.

Housing Options
Single and traditional residence hall rooms
Five person suite-style housing
Four person quad-style housing
Family housing
All Housing Options Include:
Your choice of 19, 14, or 12 meals/week meal plans
Live-in staff who are available 7 days a week
24/7 security coverage
On-site coin operated laundry
Fully furnished rooms (includes: bed, desk, chair, closet or armoire)
Campus housing is available to all matriculated students carrying a full-time load (12 or more credits).  Exceptions are made on a case-by-case basis.  Campus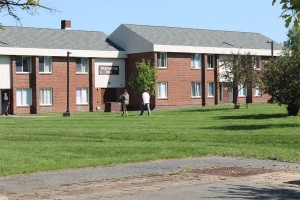 housing options include multi-student suites, traditional double rooms and a limited number of single rooms. Andrews Hall is a traditional-style residential hall featuring single occupancy rooms equipped with single beds, chests of drawers and desks.  Suite-style living is available in Snow Hall and accommodates up to five individuals with a fully furnished living room, three bedrooms and a bathroom.
How much does housing cost?
We have the most cost-effective room and board rates in the state of Maine…check it out:  Cost of Housing
---
Housing On Demand
For individuals needing only occasional or temporary campus housing, a limited number of rooms are available for $30/night.  Supper on the evening of the rental and Breakfast on the morning after the rental are included.  This option is offered only during the regular academic year to matriculated students.  Contact the Director of Residential Life for more information!
---
Family Housing
Want to Live on Campus?
For more details, contact the Director of Residential Life or visit the portal: NMCC Housing Details