'The Future of Nursing' Conference a Success
March 28, 2019
Aroostook County  –  On March 23rd NMCC's Student Nurses' Association (SNA) hosted their first conference focused on the future of nursing in Aroostook County and drew a crowd of near 80 students to the E. Perrin Edmunds Conference Center on the NMCC campus.
The event featured two keynote speakers, Lynn King, DNS, RN, and Erin Stratton, PhD, RN, of the American Nurses' Association, who presented together on the topic of incivility in nursing.
In addition to the keynote speakers, other professionals in the field also gave presentations, including Thomas P. Judge, CCTP, of LifeFlight of Maine; Judge gave a presentation called "So you want to be a flight nurse?"
"Without exposure to these opportunities, students are unaware of what's available to them," Janelle Pottle, president of the Student Nurses' Association said. "We wanted to put together a conference that put everybody in one room—employers, students, vendors, and potential students—and share some ideas about how we envision the future of nursing."
Pottle, originally from Calais, rose to presidency in fall 2018 after first holding the vice-president chair for one year in the organization. "There are different SNA groups around the state; however, the NMCC association has the most nationally-registered members," Pottle explains.
After graduating from NMCC this spring, Pottle plans to work in a hospital and begin working towards her Bachelors of Science in Nursing, perhaps at UMFK. Originally Pottle planned to enroll in the NMCC cohort in Calais, but was waitlisted; when a spot opened up in Presque Isle she jumped at the opportunity.
"This year's conference was a tremendous success. There is a lot of interest for continuing an annual conference to help students realize the opportunities available here in Aroostook County," Pottle said.
Cary Medical Center served as a co-sponsor of the event.
"We appreciate the community support we received. In the future we hope to involve more employers from the healthcare field. This is an opportunity for them to provide information on the wide variety of jobs available in healthcare," Pottle explained.
For more information about becoming a nurse in Aroostook County, visit nmcc.edu.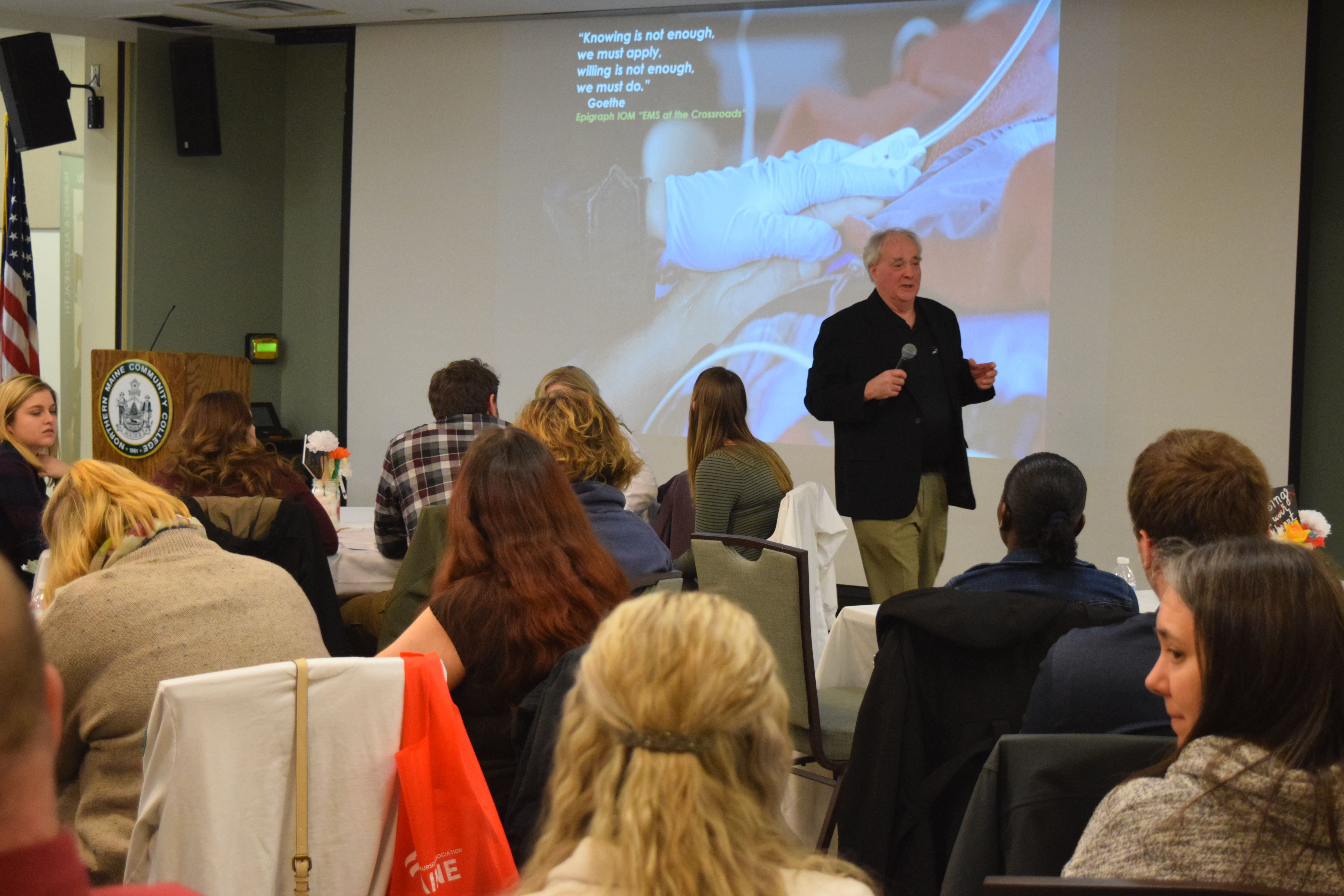 In addition to the keynote speakers, other professionals in the field also gave presentations, including Thomas P. Judge, CCTP, of LifeFlight of Maine; Judge gave a presentation called "So you want to be a flight nurse?"