Breaking The Mold: Kelly Dooner
November 15, 2018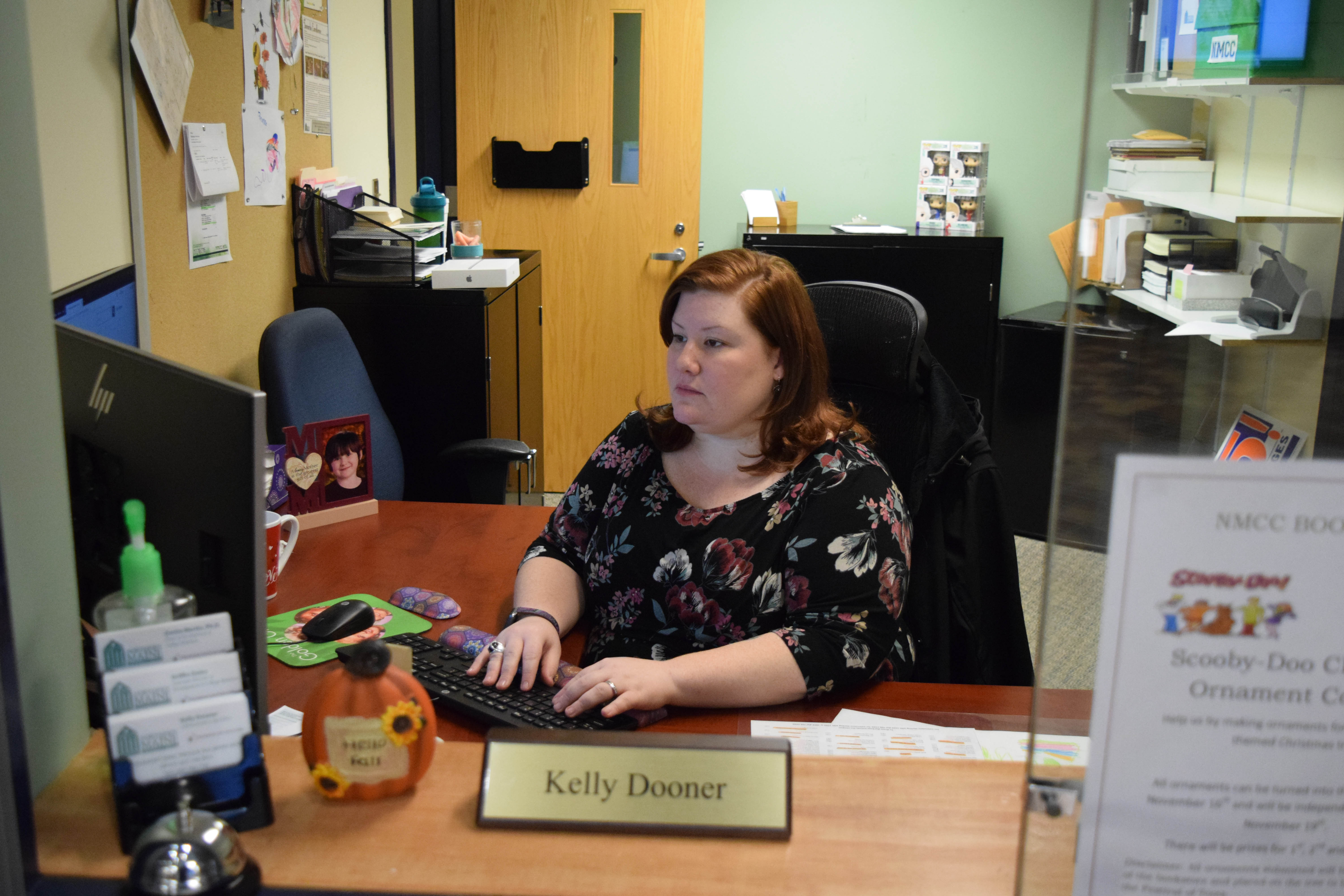 Not only is Kelly Dooner an Administrative Specialist II for the development office at NMCC, but she is also a wife, mother and Business Administration student here at NMCC.
     Kelly got a strong desire to work in an office setting at a young age from her grandmother who did accounting work for Maine Potato Growers. She was fascinated watching her grandmother work in the office and how her grandmother kept everything organized and running smoothly.
     A few years went by and instead of following the business path, Kelly found herself in the helping profession. As a Certified Nurse Assistant, Direct Support Specialist, a Personal Support Assistant and Personal Support Specialist, Kelly spent 10 years helping a variety of people ranging from elder adults to people with developmental and mental disabilities.
     Still she always had this desire to work in an office setting, remembering her grandmother's work at MPG. Kelly was a bit hesitant with the idea of starting a new career and at the time, did not quite have the support system in place to encourage her. That all changed when she married her husband. He not only encouraged her to step out of her comfort zone and try this new challenge, he told her. "You are doing it." This is what Kelly needed. After 10 years in one career, she started another. It was quite an adjustment at first as she had spent much of her career helping people. Even though she was still helping people, in her words it was, "helping in a different way".
     During her first year at NMCC, she started at the development office as a Work Study Student. Six months ago she applied for and was hired for her current position as an Administrative Specialist II and cut back to a part time student. Kelly says the best part of her job is helping to create and organizing events for the college. When people attend and enjoy these events, she gets a feeling of satisfaction and a strong connection to the college and what it stands for.
     Kelly is still working part-time on her Business Administration degree and feels she has learned a lot from her instructors. She attended another college briefly in the past and reports she did not feel as connected to that campus as she does to NMCC. She feels it is easier to access her instructors here on campus and the support she has received from staff and the Academic Success Center is a big part of her success. Kelly appreciates that her instructors structure learning in a way that is easier for everyone.
     Kelly's goal continues to be the completion of her degree in Business Administration and hopes to use this education to further her career at NMCC. She also desires to be the role model for her daughter in the same way Kelly's grandmother was to her. It is important that Kelly makes sure her daughter is supported in the career she chooses regardless of it being traditional or nontraditional for a woman. It is more important her daughter find the career that fits her best.
     Sometimes women in nontraditional careers have significant challenges to overcome. Kelly is grateful that these have been minimal for her with respect to her education and work environment. She says the staff she works with are supportive and professional. The faculty continue to support her with her education and are key to her success.
     If Kelly were to give another female advice on starting a nontraditional career, it would be, "If you are interested, then go for it." She would also encourage other students to reach out to faculty when they need to and not to hesitate to access the Academic Success Center for any and all help with classwork. She feels the school is invested in her and truly wants to see her succeed.
     By: Kent DeMerchant