Breaking The Mold: Angelique McDonald
May 14, 2019
By Kent DeMerchant
Presque Isle – Angelique McDonald recalls following her father around at work through her middle and high school years.  Angelique's father worked maintenance for several apartment buildings and oversaw multiple repair and remodeling projects. Angelique's life exposed her to a variety of trades.  She helped fix plumbing leaks, paint, replace doors and windows and repair roofs.  Angelique also talks about her experience with Totally Trades, a conference held each year at NMCC, organized by New Ventures Maine along with a group of volunteers from outside organizations.  The conference provides girls in middle and high school the opportunity to experience trades that challenge gender norms.  Students gain insights by visiting trade labs and working on projects from the trades that interest them.
While Angelique always held an interest in non-traditional jobs for women, she did not participate in any trade classes at Presque Isle Technology Center during high school.  After graduating high school, she worked for four years at Walmart, first as a cashier and eventually across several departments.  From there, she started a career at McCain Foods in Easton, where she operated machines packaging products in preparation for shipping. Although Angelique felt this was a good job, she found it a struggle to work within the same four walls day after day.  Additionally, it became a challenge balancing shift work and family life.
Finding herself a single mother of two, she felt there had to be a better way for her and her two daughters.  She wanted a good job with benefits, one she could enjoy that would also provide a good home for her family.
After some difficult years, she decided to enroll in the Plumbing and Heating program at NMCC.  By pursing this goal, she strived to gain the skills she needed to compete in a good-paying career and achieve a path that would allow her to work in more diverse settings. This career would take her back to her roots, as she remembers those times working with her father.
Angelique has had to work extra hard to balance a rigorous academic life and caring for two young girls.  With any education, you get out of it what you put into it.  Angelique recently finished her first year in the Plumbing and Heating program and her grades are a good indication of her success.  She may have challenges awaiting her in the coming semesters, but she is confident in herself.  Angelique would encourage any person, male or female, to pursue their dream career regardless of their gender and, "don't be afraid."
According to O*Net online, the median pay for a plumber in the United States is $53,910 annually.  The projected growth between 2016 and 2026 is 15%.  This is a good indication of the job opportunities for plumbing technicians in the US.  O*Net reports a slightly smaller annual salary in Maine, however, the projected growth rate remains at 15%.
In Aroostook County, combining plumbing and heating trades make a lot of sense.  In the winter, when new constructions tends to slow, heating technicians are in high demand.  When considering a career it is important to consider job outcomes along with investments of the student's time and money.  Upon graduation, Angelique has a positive future ahead of her.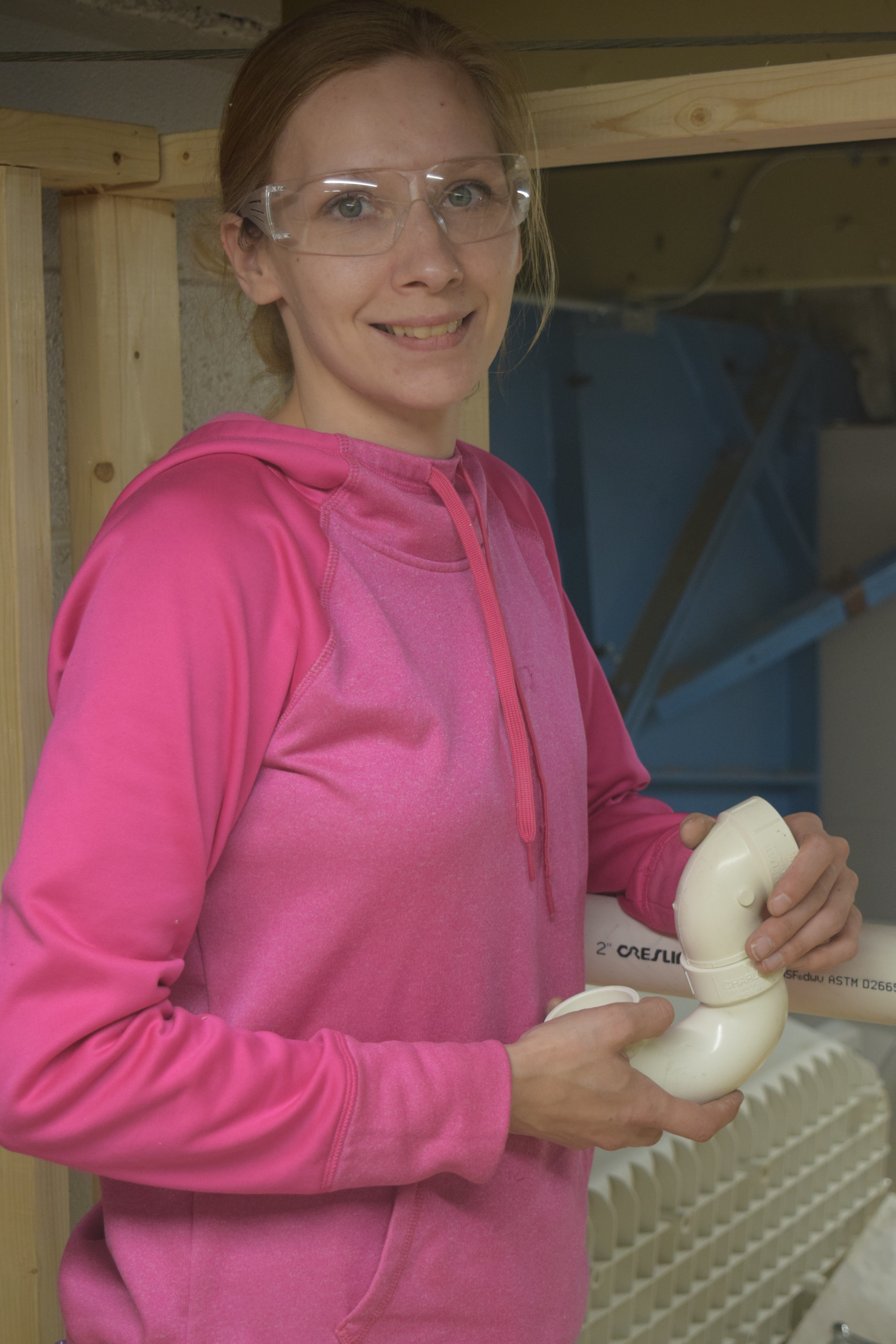 Angelique poses in the plumbing lab at NMCC where students practice the skills needed to become Plumbing and Heating Technicians.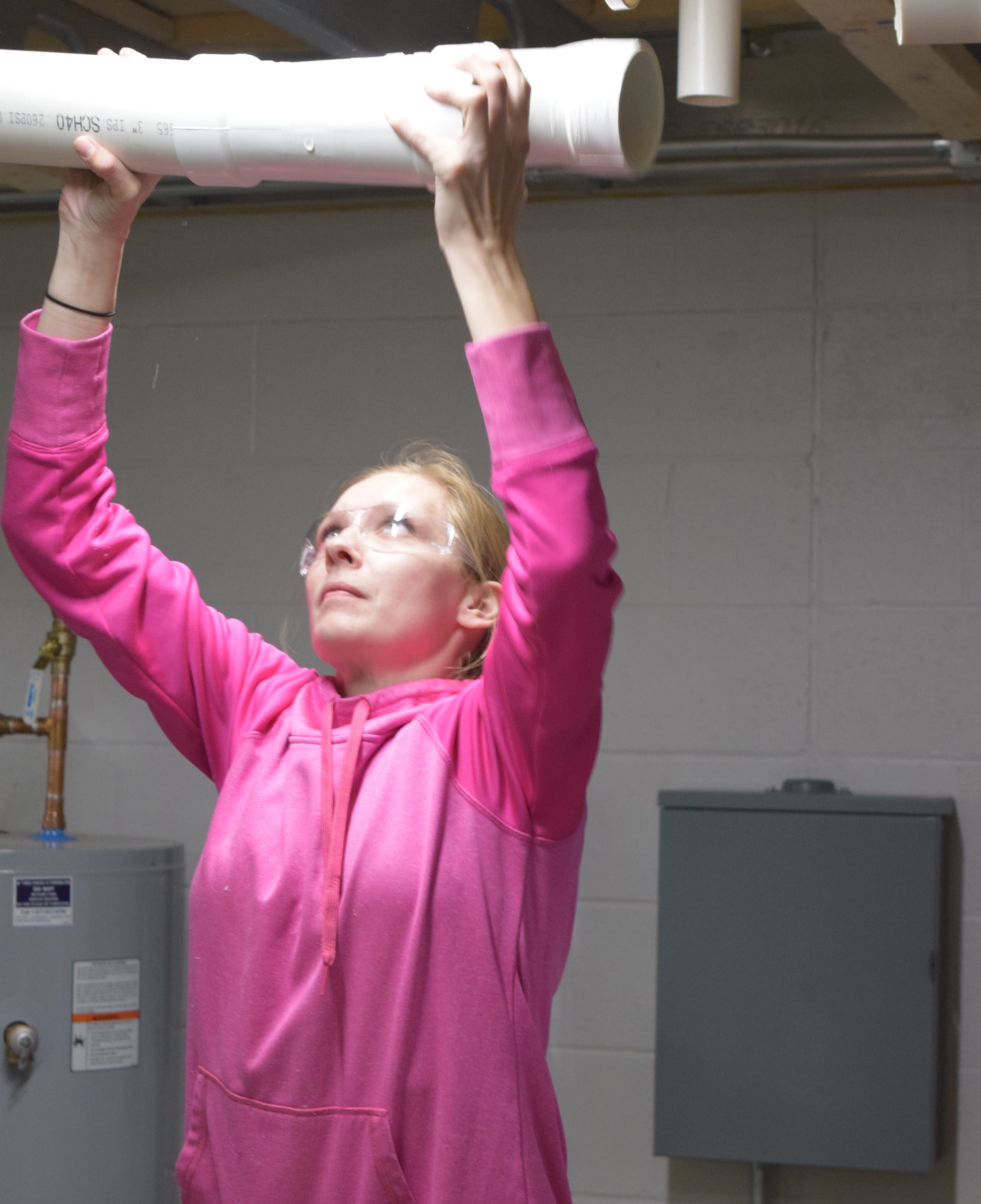 Angelique pictured fitting schedule 40 pipe prior to priming and gluing.  This is one of the tasks students practice in the plumbing lab. 
Quick Facts:
Plumbers
Job Duties
Install pipe assemblies, fittings, valves, appliances such as dishwashers or water heaters, or fixtures such as sinks or toilets, using hand or power tools.
Skills Needed
Performing physical activities that require considerable use of your arms and legs and moving your whole body, such as climbing, lifting, balancing, walking, stooping and handling of other materials.
2017 National Median Pay
$25.92/hour
Job Outlook 2016-2026
15% average growth nationally
Source: O'NET Online
NMCC 2017 Plumbing and Heating Graduate Success Rate (Employed, Cont. Education, or both)
100%