April 4, 2017
"It's exciting and scary at the same time," states NMCC Wind Power Technology (WPT) student and Presque Isle native Jessica Theriault, referring to the thought of climbing 400 feet up a wind turbine. "I like the adrenaline rush and experiencing something I've never done before."
An avid musician, Jessica plays both the acoustic and electric guitars. The use of an amplifier to project the sound from her electric guitar led to an interest in the electrical field. She decided to pursue the WPT program over other programs. "I find the wind turbines in Mars Hill to be very intriguing. I also like the idea of being on top of a mountain. The scenery is beautiful."
Having no prior knowledge or experience in the field, Jessica admits that entering the WPT program was somewhat daunting. "I was going in with nothing." Gender was also a concern. "Being the only girl was kind of scary at first." Now that she has gotten to know her peers, Jessica feels comfortable. "Everyone in the program is really cool."
Jessica has been very satisfied with the instruction she has received at NMCC. "All of my instructors have been great." She also speaks highly of her WPT instructor, Wayne Kilcollins. "Wayne is a good leader. He is very good at working one-on-one with students and helping them find jobs before they graduate." He has also encouraged Jessica to participate in classroom activities, which has brought her out of her comfort zone and has increased her understanding of the class material.
Jessica is fascinated with the electrical component of the WPT program and enjoys learning about safety. Because wind technicians are working at heights, taking proper safety precautions is mandatory. These precautions include inspection of safety gear (PPE), safety equipment and tools, as well as participating in a job safety analysis before each work activity. "It's not as scary as you may think. You need to rely on your equipment when climbing."
When she graduates in May with a certificate in Wind Power Technology, Jessica plans to find employment in the New England area and is currently looking for a job as a wind turbine technician in northern New York. Because WPT is a rapidly emerging industry, there are employment opportunities nationwide. "There are many jobs in this field."
Jessica has several personal attributes that will make her successful in her career. She has worked at Star City IGA for the past seven years and is currently a floor manager. Over the years, she has developed effective customer service skills. She works well with others and maintains a positive attitude, traits that are crucial in the workforce.
Jessica emphasizes the importance of being physically fit in the WPT profession. Prior to entry into the program, students are required to have a physical assessment and undergo, and pass, physical endurance testing to determine if they are physically capable of working in the field. A career in the WPT field involves a lot of lifting, climbing, coordination and balance. Jessica is up for the challenge. "I can lift up to 100 pounds, no problem!"
In addition to being healthy, one needs to be confident. Jessica admits that she lacked confidence in the beginning, but that did not stop her from pursuing her goal. "Go into it with confidence. If you don't know your stuff, you have to be willing to learn."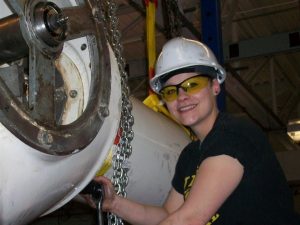 Because there are several concepts and skills to learn, Jessica recommends studying every night. Volunteering in class also helps with learning the information as well as having a strong work ethic and willingness to work. "Going to class every day with a positive mind will help you be successful."
Quick Facts:
Wind Turbine Service Technician
Job Duties
Inspect, diagnose, adjust, or repair wind turbines. Perform maintenance on wind turbine equipment including resolving electrical, mechanical, and hydraulic malfunctions.
Skills Needed
Repairing, critical thinking, troubleshooting, equipment maintenance, and operation monitoring.
2015 National Average Pay
$24.55/hour; $51,050/year
Projected Job Growth: 2014-2024
14%
Source: O'NET Online (2016)
NMCC 2015 WPT Graduate Success Rate (Employed, Continuing Education, or both)
100%